Quality Assurance Equipment
Our quality assurance program monitors your order every step of the way. Material, heat-treating and plating certifications, along with fully documented dimensional inspection reports can accompany your shipments. Therefore, Amity Die and Stamping has been the recipient of numerous Quality and Vendor Awards for our Industry leading performance.
Quality Assurance
(1) Keyence IM-7001 Image Dimension Measuring System
(1) Micro-Vu Vertex 342 Multisensor Measurement System
(1) Micro-Vu Vertex 312HC Multisensor Measurement System
(2) Nikon V-12 Comparator w/Quatra-Check II Digital Readout & SPC Outputs
(2) SPC Data Collection Processors
(1) 8,000 LB Pushout Tester
(2) Torque Testing Fixture
(2) Rockwell Hardness Testers
(1) Surface Tester
(16) Drop Gauges with SPC Outputs
(15) Digital Calipers with SPC Outputs
(4) Digital Micrometers with SPC Outputs
Amity Die and Stamping's future depends on consistently delivering a quality product, on time, and to customer specifications through continual improvement of our Quality System.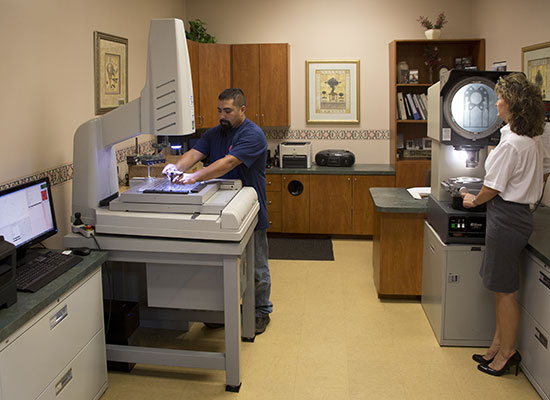 Full testing and reporting capabilities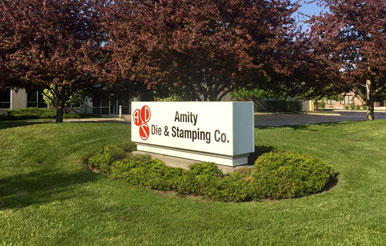 Who We Are
We provide the engineering and design of your ideas from the prototype stage, all the way through to the final product. Amity Die and Stamping believes in quality first and reconciles competitive pricing to match. You will quickly sense our dedication to customer service and discover the many advantages of working with us.
Take a tour through our modern 50,000 square foot facility complete with a full-service tool room. You will see skilled craftsmen taking pride in their trade & you will meet our team who have the same professional abilities and a can-do attitude.
© 2022 Amity Die & Stamping LLC. All rights reserved.
13870 West Polo Trail Drive • Lake Forest, IL 60045 • Tel: 847-680-6600 • Fax: 847-680-6677
Web site designed and maintained by Design-2-Part Web Design.