Careers at Amity Die & Stamping LLC
World Class Tooling Designs, Precision Stampings and Value Added Assemblies
"Your Success is Our Success"
This is a value the Westphal Family has embraced since 1943
Amity Die and Stamping LLC is a family owned and operated business with a 50,000 sq. ft. state of the art manufacturing facility in Lake Forest, IL.
We are an ISO certified company that services fortune 500 companies globally.
Amity has 75+ years of experience and innovation in the precision metal stamping industry. Our customers have benefited from cost saving designs and techniques, such as in-die tapping and in-die staking of fasteners.
Amity offers health, dental, 401k w/ employer match, profit sharing, year-end performance rated bonuses, paid vacation and an air conditioned facility.
Interested in Joining Our Team?
Click on available positions below to view details & apply: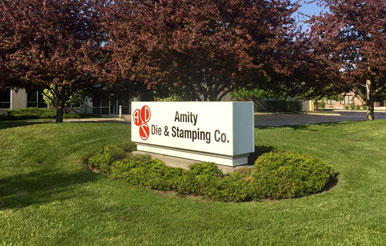 Who We Are
We provide the engineering and design of your ideas from the prototype stage, all the way through to the final product. Amity Die and Stamping believes in quality first and reconciles competitive pricing to match. You will quickly sense our dedication to customer service and discover the many advantages of working with us.
Take a tour through our modern 50,000 square foot facility complete with a full-service tool room. You will see skilled craftsmen taking pride in their trade & you will meet our team who have the same professional abilities and a can-do attitude.
© 2022 Amity Die & Stamping LLC. All rights reserved.
13870 West Polo Trail Drive • Lake Forest, IL 60045 • Tel: 847-680-6600 • Fax: 847-680-6677
Web site designed and maintained by Design-2-Part Web Design.